By Sid Chadwick – 11/16/18
Published in American Printer
"Yes….we've started conducting Major Account Reviews….what you call 'Periodic Business Reviews'…for our Top Ten Accounts……No….we don't write our Top Ten Buyer — a Summary…. of what we learned…..and what we offered or promised to do for follow-up…..that takes a lot of time……."……Anonymous
INTRODUCTION: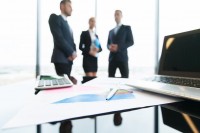 What we don't see is what happens….after we leave our Top Ten Buyer… after… we've conducted a Periodic Business Review.
Our Buyer's boss comes in, and they talk….for almost 30 minutes, reviewing the impact…and value…..of what was discussed.
A copy….of the Supplier's initial "Suggested Agenda" — is shared with the Buyer's Boss…….
Finally….the Buyer's Boss says, "If they send you a Summary of what they learned, and what they promised to follow-through on, will you send me a copy —I want to share it with our other departments……..and divisions…."
SUMMARY:
That Supplier's Written Summary……containing:
What we learned that seemed unusually important……..
What we believe we can improve, and follow-through to improve…and…..
When you should expect us to follow-through……..
Just doubled…maybe tripled….. the value of that Periodic Business Review —for that Supplier….with their Top Ten Buyer organization.
"Few activities are as valuable from a key supplier for us…..as a Periodic Business Review/Major Account Review…..How can we train other suppliers to want to do this properly…?"…………….Major Bank V. President